Surface cleaning solutions
Clean frequently touched objects and surfaces often!
Frequently touched areas should be cleaned and disinfected regularly. If surfaces are dirty, it is recommended that they be cleaned with detergent or soap prior to disinfection.
Walter's cleaning solutions are ideal for all maintenance applications, compatible with all materials and can aid in the prevention and spread of disease. Choose the solution that is best suited to your needs and request a call today!
Gold Matrix Ready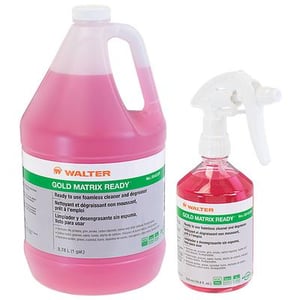 This general purpose, ready-to-use cleaner will remove oil, grease, and more. Gold Matrix ready is ideal for cleaning floors, desks, plastics, counter tops, painted metals and more!
Formats available:
500 ml trigger sprayer

3.78 L

20 L

208 L

1000L
---
UNO S/UNO SF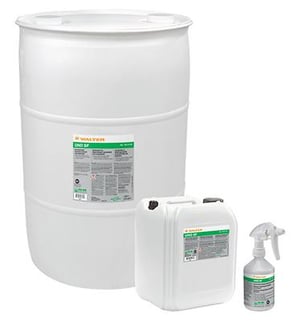 UNO S and UNO SF are highly concentrated, powerful cleaner/degreasers that can cut through dirt and grease throughout your facility. Uses range from floor washing and pressure washing of large parts to automatic parts washers. This is an excellent substitute for solvent-based cleaners.

Formats available:
500 ml trigger sprayer

3.78 L

20 L

208 L

1000L
---
FT 100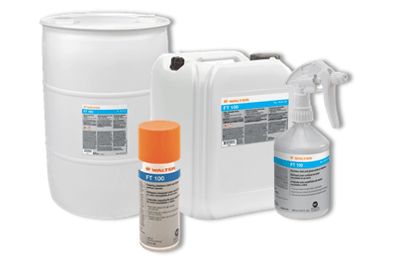 FT 100 is a surfactant-free, fast-drying cleaning agent that removes light oil pollution, dust, fingerprints, felt pen, and pencil residues from lacquered surfaces, plastics, glass, mirrors, metals, and all highly polished glossy surfaces. Ideal for cleaning screens, phones, windows and glass, goggles, handles and more!

Formats available:
400 ml Aerosol

500 ml trigger sprayer

3.78L

20L

208L
---
E-NOX CLEAN/E-NOX SHINE
E-NOX CLEAN™ is a highly concentrated gel formulation cleaner that removes tarnish, rust, and mineral deposits and brightens surfaces. E-NOX SHINE™ is a surface cleaner designed to remove light contaminants such as dust, light oils, and fingerprints prior to shipping. Both solutions are ideal for cleaning high contact surfaces such as friges, faucets, stainless appliances, railings, pharmaceutical equipment, etc.

Formats available:
500 ml trigger sprayer

3.78L

20L

208L